A Holistic Approach
It takes many disciplines to create and construct a building. In a traditional Architectural firm, many of those resources are outsourced. We found that if you want to get the best results, you need to bring those disciplines in-house. Each of our team members complement and mentor each other across several of these disciplines.
It gives us the opportunity to carefully plan your project while giving us more time to thoughtfully consider the important design questions you might have. We work as a team to solve any challenges along the way to get you the best results possible.
Our Services
Architecture
Interior Design
Land Planning
Real Estate
Structural Design
Code Inspections
Construction Manangement
Graphic Design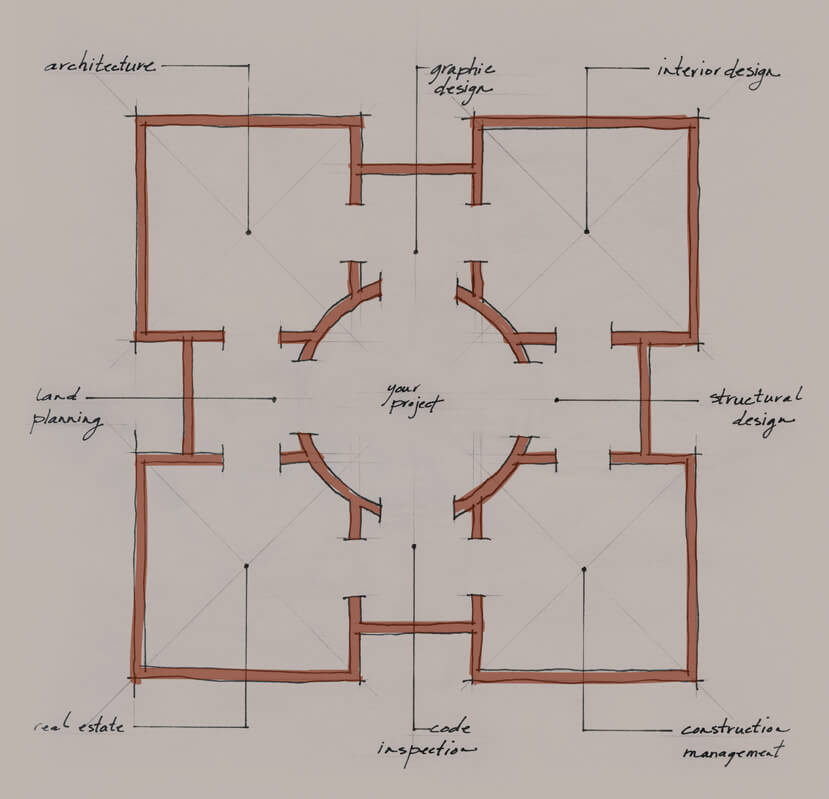 Carefully planned, thoughtfully considered.
Our Work
We offer full architectural and design services covering residential and commercial design of all sizes, including industrial facilities and institutional structures. See below to get a better look at a small sample of our work.
Our Team
Our award winning team consists of talented individuals who each contribute to the success of your project. We're very proud of the diverse work we do and take great care in maintaining a high level of design and professionalism. Our group of Architects, Interior Designers, Structural Designers, Realtors and Building Code Officials provide expert knowledge and direction for our clients.
Our Home Will Inspire You
In the early 1800's, the Shelly family decided to set down roots in Doylestown, Pennsylvania. Nestled at the top of a bucolic hillside at the edge of a deep wood, they built a modest stone and timber farmstead. The land, once occupied by British forces during the Revolutionary War, would now become a working farm feeding the surrounding community for the next two hundred years.
In 2019, the farmstead was offered to the public for the first time. Having been vacant for some time, the farmstead's main house and outbuildings were disheveled and in need of repair. Restoring the farmstead, while preserving its unique history, provided us with the perfect opportunity to use all our skills and creativity. We eagerly embraced the challenge.
We thoughtfully transformed the main house into Luce Architects new home. We felt it essential to preserve the original structure, hardwood floors and stonework. This included the farmstead's many stone walls and carved stone animals created by Keith Shelly, the last family member to occupy the site. We added our own special touches to make the house a functional workspace and an appealing, comfortable place for our clients and visitors.
Luce's new home honors the history of the local community, showcases our team's creativity, and provides us with room to grow. We hope that our new home inspires you, as it does us, every day.
Be Inspired
We love to share our knowledge and invite you to be inspired by the same things that inspire us.
Have a question? We're here to help. 215.674.5950