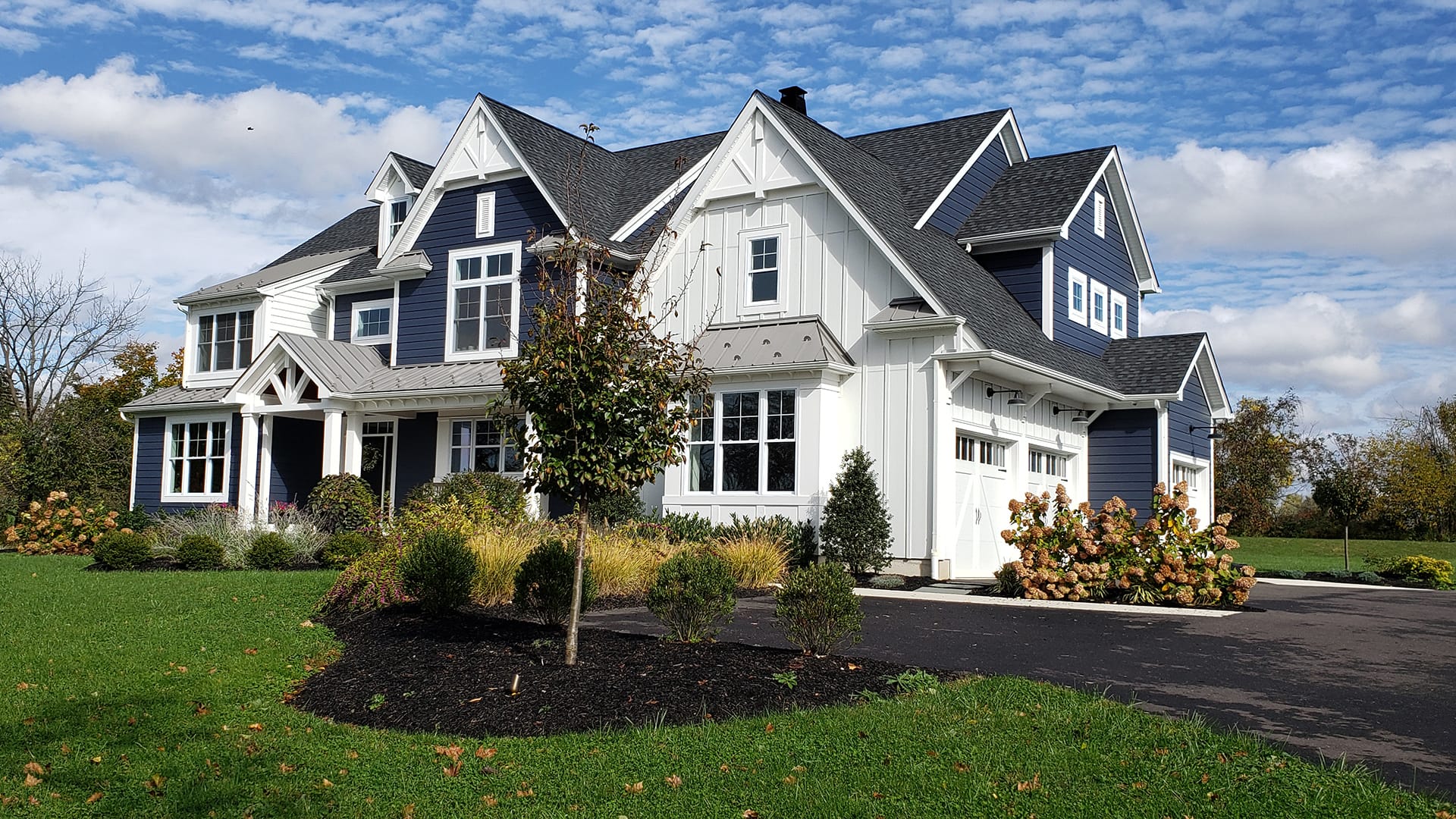 Fox Tail Farm
Located in the heart of Bucks County and 1,500 feet from the water's edge of Lake Galena, Fox Tail Farm embodies the perfect balance between natural and built forms.
Fox Tail Farm is a long held dream the home owners share. Their goal was to find a location that fit their love of the area and contributed to their appreciation of nature and outdoor lifestyle. When they visited the property for the first time, they encountered two, 65' tall birch trees on the edge of a meadow. They found it was an awe inspiring experience when they stood beneath these trees. They knew then, they had found the location of their new home.
By embracing the natural amenities of the site, we allowed the site to dictate the new homes orientation.
This approach provided an abundance of natural lighting and ventilation, while maintaining postcard vistas of the surrounding countryside. The open floor plan design allows for an uninterrupted flow between spaces and each room is positioned to allow the outdoors to visually permeate the interior.
A small barn was also added to the property to decrease the overall scale of the home and provide storage for kayaks and other outdoor gear for sunlit weekend excursions on the lake.
Learn more about Fox Tail Farm from Architectual Project Manager, Phillip Strybuc. Please note, Fox Tail Farm was previously named Twin Birch Farm.
A warm pallet of colors was chosen for a clean and timeless appearance providing a neutral backdrop for the surrounding flora and fauna.
Fox Tail Farm exemplifies how to meet the needs of the homeowner while balancing them with the environment. It's an ageless approach to architecture and design. When it's done correctly, it leads to harmonious and sustainable outcomes.
September 20th 2017
By: Chris Luce
CATEGORY
Residential
Custom Home
LOCATION
New New Britain, PA
SERVICES
Architecture
Structure
Interior Design
Construction Management
Graphic Design
Have a question? We're here to help. 215.674.5950